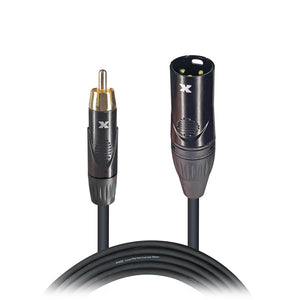 The ProX XC-ST124XLR100 Stage Box is the perfect snake for a medium Sized club or live setting with 12 XLR microphone style cables for vocal and instruments or direct boxes onstage while your mixing board has plenty of distance from the performance.  Stage Box Snake, 100ft with 12 Channel Female XLR Inputs, with 4 Return Male XLR returns.
The 4 Male XLR outputs are perfect for effect returns or on-stage monitor mix sends.
Prox provides users with amazing sound cables. We know cables are not just cables, they are what protects your sound from being altered. Uncompromised signal power, frequency handling, and sound reproduction is what we are passionate about.
Braided OFC Copper Compact shield to reduce noise and protect pure sound transfer.
Compact cable diameter to decrease eddy currents.
Bending, Twisting, are no match for our high performance tour-grade audio cables. They're designed to provide years of dependable soundreproduction and outlast every other cable on the market! Complete Coil technology demands consistent weave tolerances to create precise accuracy and detailed clarity. This is the most important part of the design and greatly affects performance.
---
12 Mic sends, 4 Monitor/Effects Returns
Silver Plated Contacts
ProX Branded, All Metal XLR Connectors
Excellent durability and superior signal transfer
20 AWG x 2 Oxygen-Free Copper (OFC) conductors
ProX Limited Lifetime Warranty - Protect Your Sound!
---
12 Channel Female XLR Inputs 4 Return Male XLR returns
---