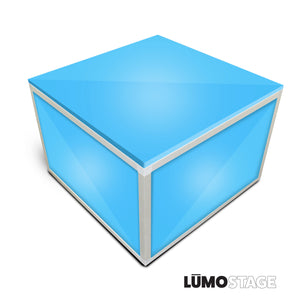 ProX XSA-2X2-24 Lumo Stage Acrylic Stage 2'x'2x24" Platform Cube Light Box Section for Disco Style Dance Floor. Introducing LumoStage™, our acrylic cubed stage platform section – the perfect solution for creating an unforgettable dance floor experience. This innovative product is designed to allow you to mount your own lighting inside each cube, creating a stunning visual display that will leave your guests in awe.
These cubed platforms stand out when an LED lighting fixture, strip tape, or the X-LUMOTREE is placed inside the center of the unit. Each unit includes a pre-cut hole in the side panel to route power cables in and out. Multiple platforms can be stacked or arranged to create a variety of display configurations.

Crafted from high-quality acrylic material, this stage platform section is durable, easy to clean, and built to last. Its clear design allows the lighting to shine through, creating a mesmerizing effect that will enhance any event. The cube measures 2'x'2x24", making it the perfect size for dancing and entertaining. It's easy to set up and can be used indoors or outdoors, making it a versatile addition to your event equipment collection.
Whether you're a professional event planner, DJ, or simply hosting a party, this Lumo Stage platform section is sure to impress your guests and create a memorable experience.
Lumo Stage can be connected in multiple units to form a stage, drum riser, DJ stand, or elevated dance floor. Each unit attaches to the others with provided interior security clamps. The underside is open (except for the support structure) to provide easy wiring and lighting installation. This product is ideal for disco clubs, party halls, lounges, weddings, trade shows, retail displays, home décor, and more.
​Modular-stye configuration
Includes Top panel + Side panels
Security Clamps Included
Floor Thickness .40" / 10mm
White Translucent Acrylic

The LumoStage contents of this model include a single 0.4" | 10mm top acrylic panel and (4) side panels. This product will be shipped unassembled.
---
Connectable acrylic cubed stage platform for multiple configurations
Allows for mounting of personal lighting for a stunning visual display
Features pre-cut hole for power cable routing in and out
Easy setup, indoor/outdoor use for versatility
High-quality, durable, and easy-to-clean acrylic material
Clear design for mesmerizing lighting effects at any event
Customizable dimensions for perfect size for dancing and entertaining
For use in various settings such as disco clubs, party halls, weddings, and more
Multiple stacking and arranging configurations available
Provides an unforgettable dance floor experience
---
LumoStage™ LumoTree RGB LED Fixture
LumoStage™ Acrylic Stage Platforms
---