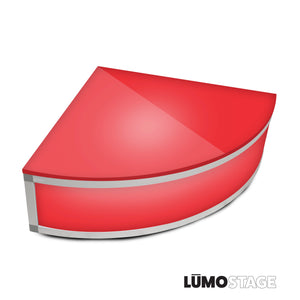 ProX XSA-2X2-8QR Lumo Stage Acrylic Platform 2'x2'x8" Rounded Cube Section Riser for LED Lighting Dance Floor. These stage platforms stand out when a LED lighting fixture, strip tape, or the X-LUMOTREE is placed inside the center of the unit. Each unit includes a precut hole in the side panel to route in/out power cables. Multiple platforms can be stacked or arranged to create a variety of display configurations.

Lumo Stage Acrylic Platforms is rugged and made from high-grade aluminum framing and includes security clamp hardware. Each Stage includes white translucent plexiglass enclosed panels on two of four sides of each platform (closed when combined with a set of four or more platforms.
Lumo Stage can be connected in multiple units to form a stage, drum riser, DJ stand, or elevated dance floor.  Each unit attaches to the other with provided interior security clamps.  The underside is open (except for the support structure) to provide easy wiring and lighting installation.  Ideal for Disco Clubs, Party Halls, Lounges, Weddings, Tradeshows, Retail Displays, Home décor, and more.
The LumoStage contents of this model include a single 0.4" | 10mm top acrylic panel and (4) side panels. This product will be shipped unassembled.
---
Modular-stye configuration
1-Curved Top panel + 2-Side panels
Security Clamps Included
Floor Thickness .40" / 10mm
White Translucent Acrylic
---
LumoStage™ LumoTree RGB LED Fixture
LumoStage™ Acrylic Stage Platforms
---