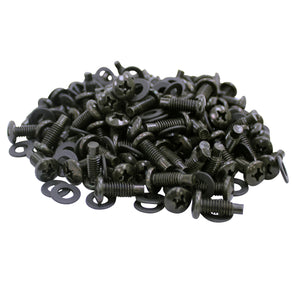 The ProX X-100RS 10-32 x 3/4" Rack Screws with washers are not your everyday hardware store item.  These superior, high quality screws should be your only choice for securing rackmount devices such as shelves, cable managers, servers, and other network, A/V and electronic equipment.
Pilot Point: The straight pointed section below the thread helps to self-guide the screw to prevent accidental stripping while also improving the ease of installation.
Phillips Truss Head:  Truss head screws can be installed with one of the most universal tools on the market. Requires only a good quality phillips screwdriver or bit with hardened tips.
Protective Nylon Washer: Distributes the pressure of the screw head more evenly to prevent damage or scratches to your rack mountable devices.
Compatible Rail Systems: ProX X-100RS 10-32 x 3/4" rack screws can be utilized in any 10-32 tapped rail system. They can also be installed in universal cage nut style rails when used in conjunction with 10-32 cage nuts.
Superior Manufacturing: The hardened steel construction produces a high-quality finish with excellent dimensional stability. We then take it one step further and finish them with a black satin coating so the screw blends with most standard black network racks, cabinets, and accessories.
---
ProX X-100RS rack screws are the industry standard. 10-32 x 3/4" Long.
We bring you everything you need to successfully rack mount equipment in racks and cases.
Whether you are building an ENG, SNG or production truck or designing your own rack system.
Phillips machine screws, black satin finish. #10 black flat nylon washers prevent scratching of equipment face.
---
All 10-32 Rack Rails and other compatible mountings.
---