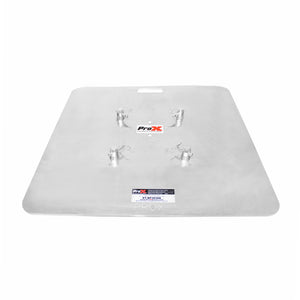 ProX XT-BP3030A 30" Aluminum 8mm Truss Base Plate for F34 F32 F31 Conical Square Truss with Connectors. This 30" x 30" Aluminum 6mm thick base plate is forged out of tough EN-AWT6 5052 Aluminum material. Most professionals trust us for the quality and reliability of our products. Its robust build gives you all the confidence you need when combining your truss segments and or any other compatible products. Includes connecting hardware set.
We use industry-standard dimensions that are compatible with most other truss manufacturers. Our Truss segments are welded and manufactured in our own factory.
TUV Is a 3rd Party Certification Body and a Nationally Recognized Testing Laboratory (NRTL).  TUV provides inspections,
testing, certification & training, with the ultimate objectives of reliability, safety & high quality.
---
Compatible with other brands
For F34 Truss Segments
6mm Plate Thickness
​Material: EN-AWT6 5052
Smooth Rounded Edges
---
Most F34, F32, F31 Truss Brands with Conical Connections
---