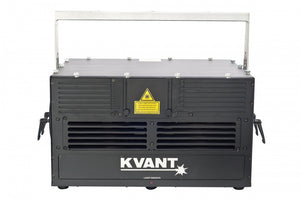 KVANT ATOM 20 is our most powerful laser light show system based on Pure Diode laser technology. It's been designed for large indoor venues and outdoor events. This robust system is built to last and it's suitable for touring.
An optional integration of the Professional Audience Scanning System (PASS) offers high level of laser display safety.
Every system is delivered with Quality Control Certificate with recorded power output values of red, green and blue laser modules which are measured during the final quality control check.
Type: full colour, pure diode white-light laser system
Guaranteed optical output: 19.5W (*see note below)
Suitable for: indoor and outdoor events, long distance laser graphics
System control: Moncha.NET or Pangolin FB4
Control signal I/O: Ethernet, ArtNet (DMX), ILDA, SD card
Scanning system: CT6215 | 30kpps @ 8 degrees (see options)
Safety: fully complies with the latest EN 60825-1 and FDA regulations.
Weight: 34kg
*Due to Advanced Optical Correction technology used in our laser systems the optical power of each colour within installed laser module(s) may slightly differ from the specification of respective laser module(s).
Module(s): Red :: 6W/637nm laser module KVANT
Green :: 3.8W/520nm laser module KVANT
Blue :: 10W/(445+460)nm laser module KVANT
Beam diameter: 5mm
Beam divergence: <1mrad
Modulation: analog, up to 100kHz
Power requirements: 100-230V/50Hz (A?5%)
Consumption: max. 500VA
Operation temperature: 10-35 A?C
Ingress protection rating: IP54
Integrated laser safety features: Keyed interlock, emission delay, magnetic interlock, scan-fail safety, V-RAD 506 mechanical shutter | reaction time <20ms, adjustable aperture masking plate.
 
---
Heavy duty case, power lead, 25M ILDA signal cable, E-STOP remote with 25M cable, set of 4 safety keys, interlock connector, CD with PDF manual, CD with Moncha.NET or FB4 laser control software.
All the basic control settings such us X & Y sizes, scan-fail safety settings etc. are adjusted digitally using inbuilt interface. This systems also features scanning system protection and daisy chain of emergency STOP signal for multiple system "one-hit" operation.
---
---