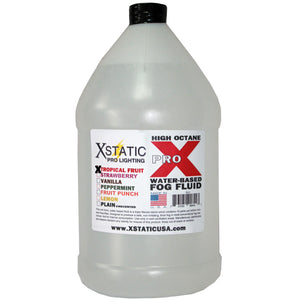 ProX FJ-1T TROPICAL FRUIT DJ Fog Fluid Water Based Fog Machine Liquid Replacement - 1 Gallon. Our Fog Liquid is a premium-quality solution for achieving exceptional airborne fog effects. Made in the USA, our fog liquid is crafted using only the finest pharmaceutical-grade chemicals, virgin raw ingredients, and purified water. We adhere to the highest standards set forth by FDA, SGS, CE, and ROHS to ensure optimal safety and performance.
This water-based fluid is a triple-filtered blend that contains less than five parts per million of mineral impurities and is designed to produce a clean, dry, and scented fog in most conventional water-based fog machines/hazers.
Our non-toxic formula leaves little to no residue and does not contaminate your machine, making it perfect for mobile DJs, nightclubs, or laser/lighting enhancement.
---
1-Gallon / 3.78 Liters of Fog Liquid
Perfect for Laser/Lighting Applications
Optimized for 400 to 2000 Watt machines
Thick Fog Density with Good Hang Time and Great Dispersion
Available Unscented and in Several Scents
Leaves Little or No Residue
Non-toxic and Non-Flammable
Purity and Quality Guaranteed!
Made in the USA
​(Master Box Quantity: 4)
---
Universal compatibility with most major brands
---