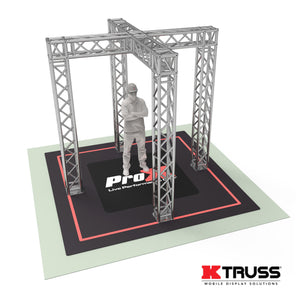 ProX KTP-999X Tradeshow Booth 9.42 W X 9.42 L X 9.20 FT H with X Shape Design in center  - K SERIES Light Duty. This package is Ideal for Trade show Booths, Exhibitor Displays, Kiosks, DJ booths, Trade Shows, Pop-Up Shops, Retail Spaces, Kiosks, Concert, Live Performances, Speeches, and Church Gatherings. 
ProX Truss has the most trusted staging support systems in the industry and is built to the highest standards of safety and performance.  It's a rugged yet lightweight trussing solution perfect for mobile DJs, bands, outdoor performances, nightclubs, live mobile productions, or permanent installations. Together we can make sure the participants have an experience they will remember!
ProX offers a wide array of small to medium temporary booth and trade show solutions to suit all types of indoor and outdoor events!  Custom temporary DJ and Production set projects are a specialty of the ProX Engineering Department, which focuses on the safety and stability of its designs.  Work with our experienced Truss and Show Designers to help you easily build that unique, safe professional-looking display you have in mind with ProX Truss.
All ProX Truss products are 100% compatible to connect along with many other manufacturers!  All ProX Trussing are constructed to the highest safety ratings by certified welders.
---
---
---
Package Contents
---