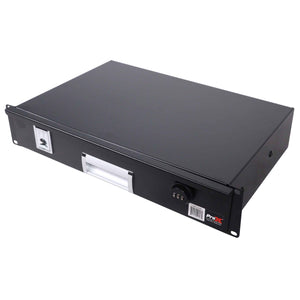 ProX T-2RD-12 MK3 This rack-mountable sliding drawer can be mounted to any Standard 12-inch Rack Case or Cabinet. These high-quality steel drawers are electro-static protected. It has a sleek powder-coated finish, it comes in a variety of options including 2U, 3U, and 4U. Each rack drawer slides out smoothly and can be locked. It has a programmable 3-digit key combination lock (with included reset key – see included instructions). Also available for 18-inch rail-to-rail rack cases and cabinets.
Our rack drawers are perfect for organizing anything from accessories, microphones, mobile devices, cables, tools, documents, and more.  Each drawer model can be an Ideal space-saving storage solution for DJs, IT Specialists, Audio and Video Professionals, Musicians, and more.
*Disclaimer: Rack Cases and any other products shown are not included, and are for display purposes only.
---
Fits 2U Rack Space
12" Rail-to-Rail Depth
 Heavy-duty Steel Construction
Easy front pull-handle
Quick Locking Mechanism
Built-in 3-Digit Combination Lock
Ideal for Rack Cases and Cabinets
Powder-coated black finish
---
12" Rail-to-Rail Rack Cases and Cabinets
---