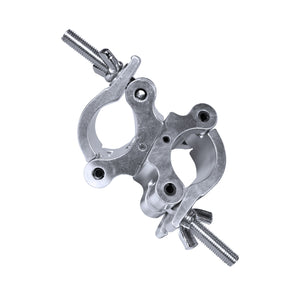 ProX T-C6 Aluminum Pro O-Style Dual Clamp with Big Wing Knob for 2" Truss Tube Capacity 1,102 lbs. Aluminum truss clamps are commonly used in the entertainment industry for hanging lighting fixtures and other equipment from truss systems. Our clamps are made from high-strength AI 6061-T6 aluminum alloy to ensure they are lightweight yet durable.
This Slim Dual O-Style clamp is a cutting-edge device that enables you to unlock new creative possibilities in your trussing setups. Designed with versatility in mind, this connector facilitates the seamless integration of different types of trusses, be it single tube or box, to achieve a customized lighting rig that meets your exact specifications.
At the heart of this innovation are two "O" clamps ingeniously linked together to accommodate standard 2" trussing tubes. The sleek and compact design makes it ideal for applications where space is at a premium, without compromising on functionality and performance.
This product is equipped with an M10 threaded bolt attachment
---
360º Rotational Clamp (Non-Locking)
Hook/Trigger-Style Clamp For 2" OD Piping
Material: AI 6061-T6 Aluminum
Min. Tubing Diameter: 1.9" (38mm)
Max. Tubing Diameter: 2.008" (51mm)
Max Load Capacity: 1102 lbs (500kg)
M10 Threaded Bolt Attachment
TUV Approved Certification
---
For F31, F32, F33, F34, F44P, and 12" Bolt Truss (Standard 2" Size Truss Configurations)
---