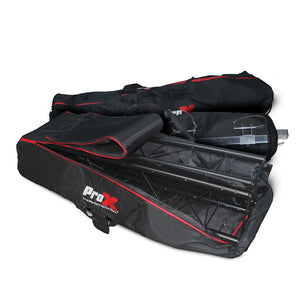 ProX T-LS35C-BAG are made with High-Quality protective materials, stitched with precision, and designed to securely transport and store your stage Crank-up Trussing System.  These bags keeps your gear dust free and protective padding keeps it from dings, scratches, and other damages. This replacement bag kit for your T-LS35C Truss Crank System kit comes with (3) Travel bags to fit each (3) ProX Brand 57" Triangle truss pieces, (2) Universal Cranks w/ Stands and (2) T-adapters. The ridged bottom and bag ends to secure truss and protect your truss from ripping the bag. It has a tough handle for hauling, and rough and tough terrain. 
---
High Quality Protective Materials
Pulling Handle
Nylon Straps with Padded Grip 
Includes (2) Large and (2) small bags
---
ProX T-LS35C Crank Up Lighting Package.
 
---