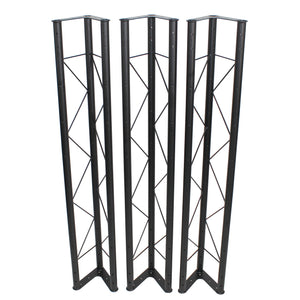 The ProX T-LS35VC-TRUSS Triangle Truss supports a capacity of 200lbs evenly distributed.  Truss sections are 6" in overall width maximum safe height is 10ft with a weight of 99lbs. This medium-duty truss lighting stand package Includes three 57" triangle truss sections that create a 5ft, 10ft, or 15ft span.  Ideal for Mobile DJ's and Live Performances the "open side" design of this trussing allows the segments to be stacked in a compact manner for transportation.
Designed with (3) Trianlgular Sections that can spread over 171" in width. This is a professional lighting truss system that will over perform everytime. It supports up to 200 Pounds equally distributed. All steel construction easily keeps your speakers and lighting safe and secure. This the truss segments ONLY, No lifting equipment included – Stands Sold Seperately*
Box Quanitity: (3) Truss Sections
Box Dimensions: 58" x 17.50" x 11"
Box Weight: 46lb
SAFETY INSTRUCTIONS
To avoid problems a competent person should inspect all rigging hardware, stands and equipment before each use and periodically do a major inspection for signs of wear, abuse, and general adequacy, as well as perform any manufacturer recommended preventive maintenance on schedule.  Observe all warnings and usage instructions. 
Basic Usage:
Ensure that your stands are positioned on hard stable surface, in a suitable location, on firm ground and clear of overhead obstacles.
Stabilize legs before lifting the tower or any load.
When outdoors, secure the tower with braces or cables, in case of wind.
Safety Notes:
Loading on truss and stands should comply with rated weights.
Lock all the safety mechanisms (safety pins, knobs)
Loads must be centered & balanced on each lifting unit.
Safety chains must be installed on each item attached to the unit.
Leave a safety perimeter with a radius 5ft greater than the maximum height of the stands during lifting and lowering of loads.
During transport, close all the sections and lock the lifting carriage.
Do not attempt to move the stand when loaded or in an extended position.
---
---
ProX T-LS35VC DJ Lighting Crank System
---