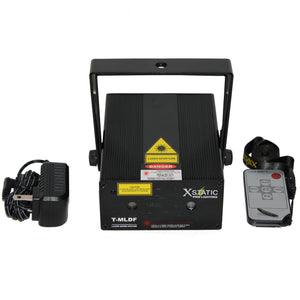 5 mW Class 3R Professional RED & GREEN
Dual Color Animation Laser Effect Light
The BLACK JACK is a dual head laser with the smallest footprint you'll find for such a full array of features. Thousands of interweaving points of light combine to create an exciting and highly dynamic effect, which follow up to 300 pre-configured patterns in sound.
Includes IR Remote Control.
Laser safety class:3A
Red laser: Wavelength: 650nm
Green laser: Wavelength: 532nm
Power Supply: 90-250VAC
Frequency: 50~60Hz
Control: High capacity and speed microprocessor
Scan System: Micro-step motor scanner
big angle scanning
Diode-pumped solid-state laser (DPSS)
Play Mode: Sound / Auto-Play
---
Produces more than 300 green and red laser beams with more than 200 patterns that can be projected on a ceiling, wall or dance
floor.   Ideal for Mobile DJ Entertainers Bands, Night Clubs Bars or Party use.
 
Plug-N-play
Efficient
Easy to Operate
Linkable
Micro-step motor scanner
Big angle scanning
Diode-pumped solid-state laser
Wide & Long Range
High capacity and speed microprocessor
Sound Activated
Auto Play
DMX-512, Master/Slave
Incredible w/ FOG
---
---