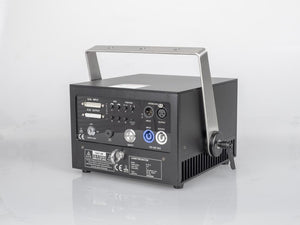 Over the years, thousands of Kvant Clubmax lasers have been s­old to customers all around the world. The Kvant Clubmax line of laser systems has built quite a reputation for its incredible performance and reliability, all at an affordable price point. Kvant Clubmax lasers are offered in powers ranging from 2W to 15W.
Our 3rd generation Kvant Clubmax lasers provide a radically simple solution for a wide range of events, from small cozy venues and private clubs to large festivals and events with several thousand people.
The Kvant Clubmax 15 FB4 is the most powerful RGB laser display system in the Clubmax series! It is designed to be efficient for large size indoor venues and even medium outdoor stages. The Clubmax 15 FB4 comes with Pangolin's FB4 laser control hardware integrated into the laser system, allowing you to control the laser from a PC, lighting console, or in auto mode.
Highlights of the Kvant Clubmax 15 FB4 laser light show projector:
Battlefield tested chassis, and internal design is robust and sturdy, making the Clubmax an ideal laser system also for permanent installations, touring, and laser rentals.
Optimized to allow for long maintenance intervals and to ensure a long-life span of the laser system.
Ultra-low-divergence RGB laser source designed to provide maximum brightness at further projection distances. The premium quality laser source uses the latest semiconductor diode laser technology in conjunction with the most advanced beam shaping techniques.
30% more powerful red lasers than the Clubmax 6000 FB4, resulting in a stronger pure white, and some other mixed colors.
Pangolin's FB4 laser show control hardware allows you to control your laser from a PC. lighting console via Ethernet, DMX, ArtNet and ILDA, or in auto mode for standalone playback.
Color Balance Display Mode matches the colors outputted by your laser to those you see on your computer screen, without the need for color palette calibration in your software. The color settings are stored in the internal system memory of Clubmax FB4.
A comprehensive range of adjustment controls on the rear panel.
Easily accessible beam alignment mechanism: with no need to take the lid off.
Direct compatibility with Pangolin DiscoScan 2.0 bracket, Safety Scan lens bracket, 4-Way masking plate and FB4-QS Quick Connect.
Optional Single or Dual Optical Bench and Pangolin PASS upgrades.
TÜV certification.
Every KVANT laser system is delivered with a Quality Control Certificate. The certificate includes the power output measurement of each laser wavelength within the system.
---
Source | Type:
semiconductor diode | full-colour RGB laser projector
Suitability: indoor/outdoor laser displays [atmospheric, abstract, text, animations]
System control: FB4-SK [Ethernet, ArtNet, DMX, ILDA | PC, Lighting Console or Autoplay]
Compliant with:
EN 60825-1 [tested by TÜV SÜD], FDA
Weight [kg]: 16
Size [WxHxD, mm]:
339 x 168 x 399
Guaranteed opt. output [mW]: 14500
R | G | B [mW]:
5000 | 3800 | 6000 [*see note A below]
Wavelengths [nm, ±5nm]:
637 | 520 | 445
Beam size [mm]: 5 x 5
Beam divergence [mrad]:
<1 [full angle, averaged value, *see note B below]
Modulation [kHz] | type: 100 | analogue
X-Y scanners:
CT-6215 | 30 Kpps @ 8° [more Options below]
Power requirements [V] | Input:
100-230/50-60Hz | Power Connection TRUE1
Max. power consumption [VA]: 340
Operation temperature [°C]: 10-40
Included in the set:
Heavy-duty flight case, 1.5M power lead, 10M Ethernet rj45 signal cable, E-STOP remote with 10M 3-pin XLR cable, set of 4 safety keys, interlock connector [for the USA only], USB memory stick with the user manual. Pangolin QuickShow laser control and creation software is available for FREE download.
HW features:
All the basic system settings and adjustments such as power output adjustment for each colour, X & Y axes invert, X & Y size and position, etc. are managed via the built-in FB4 control interface.
Scanning system overload protection.
Optical bench integration slot.
Laser safety features:
Keyed interlock, emission delay, magnetic interlock, scan-fail safety, fast electromechanical shutter [reaction time <20ms], adjustable aperture masking plate, Emergency STOP system with keyed remote and manual RESTART button.
note A
Due to Advanced Optical Correction technology used in Kvant systems, the real power output of each laser module installed within the system may slightly differ from its specification. This doesn't affect the total guaranteed power output of the system.
note B The beam divergence total is calculated as an average arithmetic value of all individual colours. The divergence of each colour is calculated as:
1. FWHM of the beam cross-section for round beams, or
2. The arithmetic average of the beam's horizontal and vertical divergence for all rectangular beams.
---
---