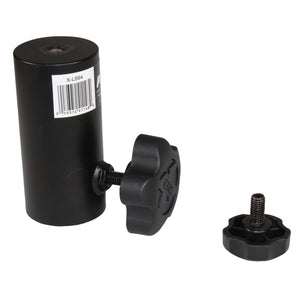 The ProX X-LS64 Universal Compact Adapter is a Lighting Mount for Speaker Stands with1 3/8" Pole.   Can be used with any brand or model of a stand that has a 1 3/8" top pole.   It can be used to mount small lighting fixtures, small/compact moving heads, gobo projectors or most any other light with a hole mount flange.
Dimensions: 
Overall Length 4.75" 
Overall Width 3"
Stands may be shown for illustration only, not included.
---
Locking stud for the fixture
Set screw for securing to pole
Durable all-steel construction w/black finish
Maximum mounted load weight 22 lbs

Always use safe mounting practices matching fixture weight to base size/weight

 
---
Speaker/Lighting Stands with1 3/8" Pole.   
---