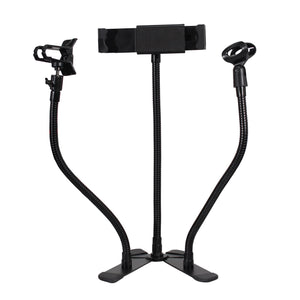 The ProX Mobi-Buddy™ X-MOBI CP20 is a unique, Hands-Free Mobile Device Clamp kit that fits Apple iPhone, iPod, and Android Other Devices, GoPro Hero Camera, and Audio Field Recorders.   It has a secure clamp that fits devices from 1" to 4" in width/length.   Tablet clamp fits tablets from 7.5" to 11.5" L/W
The kit includes the device clip, a tablet clamp, a microphone clip, 3 poseable 15.5" gooseneck poles, a folding steel base along with clamps that fit speaker stands, microphone stands, and other round devices.   There is also included a universal surface clamp that will fit on a desk, road case, or other flat surfaces.   All of this is contained in a durable carry case with pre-cut foam interior.
This exclusive Mobi-Buddy™ from ProX is a revolutionary product that has been long needed by DJs, Sound Technicians, performers and anyone else that needs a secure and flexible way to mount their mobile device or tablet for easy viewing or for positioning a camera or other device in a secure manner.  This particular kit will be very useful for Podcasters/Vloggers, Musicians (Mounts to microphone stands, drum kits, keyboard stands, and much more.)  Videographers, Photographers, Sound Engineers, and Lighting Technicians will especially enjoy the ability to position devices for easy use why freeing up a hand or two!
---
Device/Phone Clip & Tablet Clamp
Tablet Clamp fits Devices from 7.5" to 11.5" L/W
Microphone Clip
Fits Mobile Devices from 1" to 4" L/W
3 15.5" Gooseneck Flexible Poles
Folding Steel Base W/3 Mounting Points
Dual Mounting Clamps for Table/Pole
Custom Storage Case with Cut Foam
---
Tablets from 7.5" to 11.5" W/L and mobile devices from 1" to 4" W/L
Fits Apple iPhone, iPod, and Android Other Devices, GoPro Hero4 Camera, and Audio Field Recorders, Ipad, Android Tablets
---