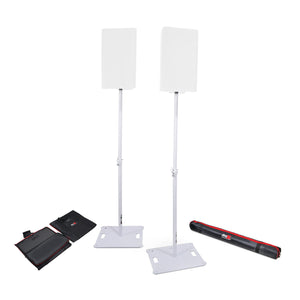 ProX X-POLARIS WH POLARIS™ Portable Speaker and Lighting Dual Stand Kit – For PA Speakers, Portable Projectors, LED Lighting Bars, Par Lights, and Mirror Balls. Setup is incredibly easy and it takes up a very small footprint in smalller storage spaces and vehicles.
The steel pole shaft can be raised and lowered seemlessly from 55" up to 72" inches in height. It has industrial grade rubber feet that help prevent movment and helps when lifting/tilting from the ground for repositioning. Its constructed of mostly of Steel from top to bottom, collar and shaft (most brands use plastic). 

POLARIS™ Speaker/Lighting Stand Kit comes in handy when youre looking to elegantly place speakers and lighting in tight spots, corners or other areas where a small foot print is required. Using traditional tripod speaker and lighting stands can be very ugly and bulky for more discreet or elegant style of events.
Polaris can be used for many occassions big or small and can be utilized for all types of scenerios including: Weddings, Birthday Bashes, Town Gatherings, Speeches, Gallas, Trade Shows, Lounges/Bars, Ballrooms and at domestic home use. 
Specifications
Max Height: 72"
Min. Height: 55"
Max Load: 80 lbs
Pole Diameter: 1-3/8" 
Base Diameter: 22"
Base Weight: 29 lbs (each)
Includes:  
(2) Adjustable Height Pole Shafts
(2) Steel Base Plates
(2) Base Plate Bags
(1) Pole Carrying Bag
Shipped in 2 of 2 boxes:
  BOX#1:  24 x 24 x 4.50 (65 lbs)
  BOX#2:  5.50 x  42.50 x 3 (10 lb)
---
Dual Stand Kit
Extends up to 72"
Safety Locking Pin
Steel Base Plate
Powder Coated White Finish
Ergonomic Big Knob
Corner/Center Offset Threads
---
Universal Stands Fit
Most Brands PA Speakers
LED Lighting Bars and Pars
Portable Projectors
Mirror Balls and Motors
---