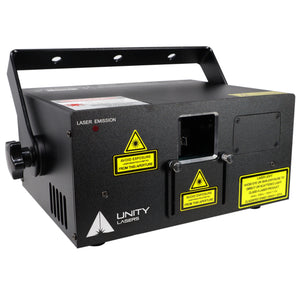 ProX X-RAW1.7-RGB Unity Raw 1.7 Watt RGB Laser Light Show Projector System. The Unity RAW 1.7 is a full-color RGB diode-based ILDA-compatible laser projector. It is designed for those who want an economically friendly laser show system that has the power to produce beautiful aerial beam effects and high-resolution laser graphics, logos, and text. This RAW laser projector is suitable for consumers and home users.
Disclaimer: QUICKSHOWFB3 is required to operate the machine. Sold Separately.
Try a FREE demo and see it in action here. 
What's in the package?
​Laser Projector
Mains cable
ILDA Cable
E-Stop Remote
E-Stop XLR Cable
Set of (4) Safety Keys
User guide pdf
Quality certificate
Interlock (US only)
---
Full-colour, Semiconductor diode laser system
1,700mW Output
Connection ILDA (Included)
REQUIRED: Pangolin FB3QS/QuickShow
Scanning System: 25,000 pps @ 8°

RGB (mW): R 350 | G 500 | B 1000
Scan Angle: 50°
Beam Size: 5mm x 3mm
Dims: 9.37" x 7.55" x 4.96"
---
See more info on X-RAW-1.7-RGB
---