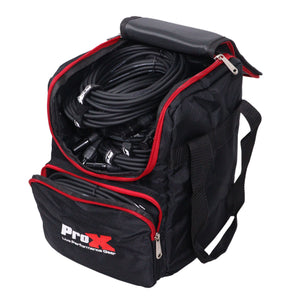 ProX offers an outstanding array of rugged cases and bags, so that you can protect every item of your performance equipment. There is no better way to protect your valuable gear than by using one of Prox's gig bags or hard cases.  When it comes to your gear, you can rest assured that you can trust ProX for the ultimate in protection.
---
This rugged and stylish bag can be used as a utilty bag for cables, connectors and more.    Manufactured from durable nylon with the unique ProX ProX Honey Comb design that was inspired by the design of New York City Street Manhole covers which are made to handle rough and tough everyday punishment. 

The straps are strong and durable and positioned to carry the load evenly.   The interior of the units are padded to provide additonal protection for what you are carrying to your events.   The strong and durable double ended red zipper compliments the design of the bag.   There is an exterior pouch for additional storage as well.  
---
---