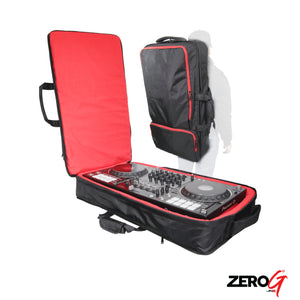 ProX XB-DJBPL ZeroG Lightweight Backpack for Pioneer DDJ-FLX10 DDJ-REV7 RANE ONE DDJ-1000 SRT - Large Size.
ZeroG™ Series bags have been meticulously designed to cater to the needs of DJs, ranging from those with Small to X-Large DJ Controllers. The bags boast of exceptional durability that places them between a traditional ATA Flight Style Hard Case and a soft material Gig bag.
The build quality of ZeroG bags is unparalleled, making them the perfect choice for Mobile DJs. The bags are ultra-lightweight, yet rugged, ensuring that your equipment is always safe and secure, even when on the go. The inclusion of a removable back straps adds to the convenience and portability of the bags. Additionally, the bags feature a tough aluminum matching red zipper, which enhances both the security and aesthetic appeal of the case.
For DJs who are always on the move, ZeroG bags provide strong and lightweight protection that cannot be matched by traditional metal road cases or plastic cases that often crack under pressure. The thermoformed EVA material used to make the hard-shell case provides an excellent alternative to rigid plastic and metal road cases without sacrificing protection. This ensures that your equipment is always safe and secure, even in harsh environments.
Whether you are a beginner or a professional DJ, ZeroG DJ Controller bags are the perfect solution for those who commute or travel light. With their exceptional build quality and strong, lightweight protection, you can rest assured that your equipment is always safe and secure.
---
Fits most Large DJ Controllers (see blow)
Storage for Laptops, Tablets, Cables, Etc.
Ultra-Lightweight Material
Removable Back Straps
One-year Limited Warranty
---
Pioneer DDJ-1000 / SRT
Pioneer DDJ-REV7
Pioneer FLX-10
Rane® One 
and Similar sized Controllers
---