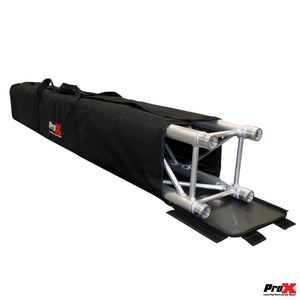 The ProX XB-SQ656TB Truss Bag is especially important if you plan on transporting powder coated truss or having your truss powder-coated in the future. The Truss Bag also protects the polished aluminum finish on all your trussing.  Transport your truss in a professional manner while protecting its finish and keeping the trussing clean while moving or storing.
Fits: 6.56ft (2.00m) Truss Bag for F34 Square Truss with a width and height of 11 7/16" (290mm).
Int: 79"x12"x12"
---
ProX XB-SQ656TB Truss Bag is for use with F34 Square Truss
Ridged bottom and ends to secure truss and protect truss from ripping the bag.
Pouch to conveniently store connection hardware.
Heavy-duty handles to ensure a safe grip.
Padded plus zippered pocket.
The ProX Truss bag also fits triangular segments.
---
For Use with F34 Square Truss
---