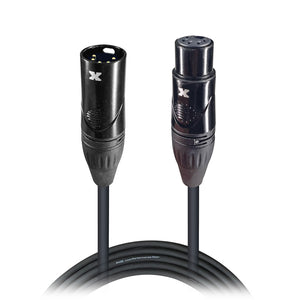 The ProX XC-5PDMX25 cable is ideal for DMX connection applications where a device with a male DMX XLR-5 output/input needs to be connected to a device with a female DMX XLR-5 output/input. 22AWG Oxygen-Free Copper (OFC) conductors for maximum signal transfer.
We know cables are not just cables, they are what protects your signal from being altered. Uncompromised signal power, with precise data transmission, is paramount for quality DMX control operations.  Our DuoFoil and braided OFC Copper Compact shield blocks noise and protects data transfer.

Bending &Twisting, are no match for our high-performance tour-grade DMX cables. They're designed to provide years of dependable service and outlast every other cable on the market! Complete Coil technology demands consistent weave tolerances to create precise and accurate data transmission. This is the most important part of the design and greatly affects performance.
NOTE: Twisted pair DMX data transmission cables are not suitable for audio use.  Conversely, audio cables are not suitable for DMX data use.   Their specifications and characteristics differ substantially.   Always use the correct cable for reliable connections!
Technical Specifications
Polyethylene insulation
Dual Twisted Pair Data Cable (4 Conductors)
Polyethylene inner jacket
Duofoil® (100% coverage)
Cotton plus a tinned copper braid shield (85% coverage)
PVC jacket for durability
Nominal Characteristic Impedance: 110 Ohms
Nominal Capacitance Conductor to Conductor @ 1KHz: 12.8 pF/ft
Nominal Cap Cond. To Other Cond. & Shield @ 1KH z: 23 pF/ft
Nominal Velocity of Propagation: 66%
Nominal Delay: 1.6 Nanoseconds per foot
Nominal Conductor DC Resistance @ 20 degrees C: 24 Ohms/1000 ft
Nominal Outer Shield DC Resistance @ 20 degrees C: 3.4 Ohms/ 1000 ft
Nominal Attenuation (dB/100 ft): 0.6 (@ 1 MH z) dB/100 ft
Maximum Recommended Current: 2.1 Amps per conductor @ 25 degrees C
Operating Temperature Range: (-30 degrees C To + 75 degrees C)
---
Gold Plated Contacts
ProX Branded, All Metal XLR-5 Connectors
Excellent Durability and Superior Data Transfer
20 AWG x 4 Oxygen-Free Copper (OFC) conductors
Extra Durable & Flexible Long Life Construction
ProX Limited Lifetime Warranty
Master Box is 10 Cables
---
DMX XLR5-M to XLR5-F
---