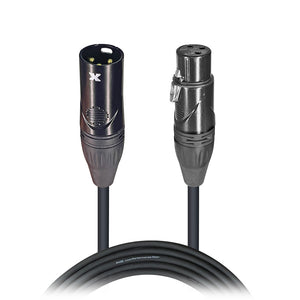 ProX XC-DMX25 25 Ft. High Performance DMX Male 3-Pin to DMX Female 3-Pin Coupler Patch Cable. DMX Cables are used for a vast amount of applications. From Stage Lighting Controllers, Audio Consoles, Mobile DJ Gear, and equipment for Musicians. DMX cables are the bridge to put the control in your hands when it comes to gear.
The Build:
Our cables are plated with gold and silver connectors for superior signal transfer. 22 AWG – 93% Braided Oxygen-Free Copper (OFC) Conductors which provide an optimum signal transfer.
Quality Control:
We test every single cable to make sure each one performs to the best of its ability, which includes high performance and flexibility that can handle heavy everyday use. These cables are specifically designed to provide many years of crystal-clear sound and durability.
Bending, Twisting, are no match for our high-performance tour-grade audio cables. They're designed to provide years of dependable sound reproduction and outlast every other cable on the market! Complete Coil technology demands consistent weave tolerances to create precise accuracy and detailed clarity. This is the most important part of the design and greatly affects performance.
We make Instrument cables, Speaker cables, RCA cables, DMX cables, Power cables, and more. Our cables are made for professionals, by professionals.  
 
Technical Specifications
Polyethylene insulation
Twisted Quad Data Cable
Polyethylene inner jacket
Duofoil® (100% coverage)
Cotton plus a tinned copper braid shield (85% coverage)
PVC jacket for durability
Nominal Characteristic Impedance: 110 Ohms
Nominal Capacitance Conductor to Conductor @ 1KHz: 12.8 pF/ft
Nominal Cap Cond. To Other Cond. & Shield @ 1KH z: 23 pF/ft
Nominal Velocity of Propagation: 66%
Nominal Delay: 1.6 Nanoseconds per foot
Nominal Conductor DC Resistance @ 20 degrees C: 24 Ohms/1000 ft
Nominal Outer Shield DC Resistance @ 20 degrees C: 3.4 Ohms/ 1000 ft
Nominal Attenuation (dB/100 ft): 0.6 (@ 1 MH z) dB/100 ft
Maximum Recommended Current: 2.1 Amps per conductor @ 25 degrees C
Operating Temperature Range: (-30 degrees C To + 75 degrees C)
---
Gold Plated Contacts
ProX Branded, All Metal XLR Connectors
Excellent Durability and Superior Data Transfer
20 AWG x 2 Oxygen-Free Copper (OFC) conductors
Extra Durable & Flexible Long Life Construction
ProX Limited Lifetime Warranty
Master Box: (10 pcs) Per Box
---
DMX-M to DMX-F (3-PIN)
---