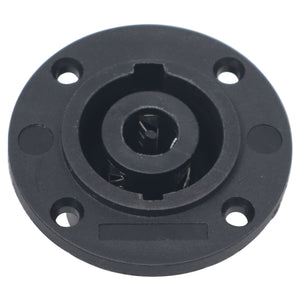 The ProX XC-NL8FR SPEAKON® Connector Female NL8 is an 8 pole cable connector, chuck type strain relief that fits the industry-standard for loudspeaker connections offer extremely reliable and robust cable connectors with a reliable locking system. They feature solid contacts with screw-type terminals including stranded wire protection.
This professional speaker and amplifier connector offers the industry standard "quick lock" system.  The internal contacts are touch-proof and are designed to prevent damage from disconnecting under load and include a fail-safe condition for both the equipment and the user. 
---
All registered trademarks and trade names are properties of their respective owners and are used only for clarification of the compatibility of our products with the products of the different manufacturers. Due to constant product improvements, the actual product appearance might differ from the shown images. Product images are for illustrative purposes only.
---
SpeakOn® 8 Pole Male Connections
---