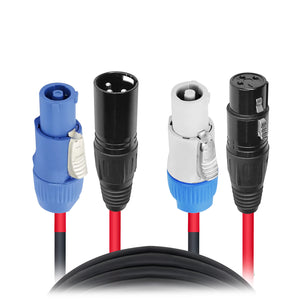 ProX XC-PWC14-XLR06 6' Ft Dual 14AWG Powerkon to Dual XLR Combo Link Jumper Cable. This cable is ideally used when you want to minimize running cables from Power and XLR Audio to the desired sources. It saves you time and it is conveniently paired together. Avoid messy cables when multiple XLR and power sources are needed. Each connecting side includes 2x PowerKon Connectors and 2x XLR Connectors.  
93% braided OFC Copper Compact shield to reduce noise and protect pure sound transfer. Each cable is constructed with a compact cable diameter to decrease eddy currents.
Bending, Twisting, are no match for our high-performance tour-grade audio cables. They're designed to provide years of dependable sound reproduction and outlast every other cable on the market! Complete Coil technology demands consistent weave tolerances to create precise accuracy and detailed clarity. This is the most important part of the design and greatly affects performance.
PowerKon connector is a 3-conductor, locking power connector which provides a safer power connection than the IEC 60320 C13/C14 connectors commonly found on consumer audio components, computers, power adapters, and other devices.  The twist connector mates the ground contact before connecting the neutral and line contacts, ensuring an electrically safe connection. 
ProX cables are built with uncompromised quality with excellent performance at each connection - Instrument cables, Speaker cables, RCA cables, DMX cables, Power cables, and more. Our cables are made for professionals, by professionals.  
---
14AWG PowerKon + XLR 20 AWG Oxygen-Free (OFC) Conductors
Black PVC Jacket for durability, flexibility, and low visibility on stage
Cotton plus a tinned copper braid shield (85% coverage)
Compact cable diameter to decrease eddy currents
Polyethylene inner jacket
Duofoil® (100% coverage)
---
PowerKon to Dual XLR Combo Link Jumper Cable
---