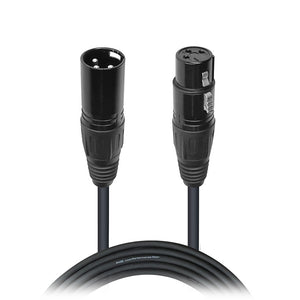 The ProX XCP-DMX05 cable is a lower cost alternative to the ProX High-Performance Cables.  They are ideal for DMX connection applications for DJ's or users that do not use their cables as often as touring companies or other heavy use operators.  They fit where a device with a male DMX output/input needs to be connected to a device with a female DMX output/input. 22AWG Oxygen-Free Copper (OFC) conductors for maximum signal transfer.
We know cables are not just cables, they are what protects your signal from being altered. Uncompromised signal power, with precise data transmission, is paramount for quality DMX control operations.  Our braided OFC Copper Compact shield blocks noise and protects data transfer.

Bending &Twisting, are no match for our Premium DMX cables. They're designed to provide years of dependable service! 
NOTE: Twisted pair DMX data transmission cables are not suitable for audio use.  Conversely, audio cables are not suitable for DMX data use.   Their specifications and characteristics differ substantially.   Always use the correct cable for reliable connections!
---
Silver Plated Contacts
ProX Branded, All Metal XLR Connectors
Excellent Durability and Data Transfer
Nominal Impedance: 110 Ohms
20 AWG x 2 Oxygen-Free Copper (OFC) conductors
Durable & Flexible Long Life Construction
ProX Limited Lifetime Warranty
Master Box is 10 Cables
---
DMX XLR3-M to XLR3-F
---