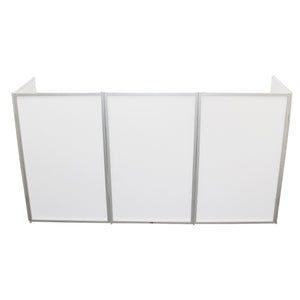 ProX XF-5X3048S 5 Panels Silver DJ Facade Strong And Lightweight Stainless Steel Quick Release 180 Degree Hinge.  The ProX XF-5X3048S Facade is a strong, lightweight aluminum facade to clean up your DJ look for weddings, corporate, and mobile events.  The hinges on the XF-5X3048S 5 Panels Pro DJ Facade are quick release, 180-degree hinges to make set up fast, and flexibility of setup a breeze!  The ProX Direct XF-5X3048S 5 Panels Pro DJ Facade comes with both black and white lycra scrims which allow you to fit in at the club or the most elegant wedding.  Each panel measures 30" X 48"
Facades provide the look of an elegant professional work area; hides cables help protect equipment and assists with managing crowd control for the DJ!  The panels are strong and lightweight, easily removable for cleaning and can be interchanged for color combinations using the black and white scrims included.  The scrims are machine washable!  Each panel is scratch-resistant aluminum in all Chrome.  
The light-weight translucent white scrim panels compliment Mobile DJ set ups.  Adding lights behind this ProX Facade to illuminate the panels allows lighting effects variety. Be creative!  You can use any of our rectangular panels to create that perfect setup for your wedding, birthday party, special event, or even in a permanent installation! 
After the initial one time assembly, this portable 5-panel facade is a breeze to set up and tear down with its stainless steel, 180-degree quick release hinges.  It not only comes with its own carry case but also bags for both the white and black scrims. Each panel's dimensions are 30" x 48"​
WARNING! These scrim products are for temporary use ONLY and NOT for permanent installation. Keep away from open flames, sparks, direct heat or any type of electrical fixtures and outlets. ProX Live Performance Gear is not responsible for any bodily injury or property damaged caused by misuse of this product. Scrims can be machine washed and air-dried only. Do not use harsh chemicals or chlorine bleach. Factory fire retardant loses effectiveness with washing and over time. Re-treat as needed.
---
include high-quality aluminum construction and translucent panels for attractive added backlighting illumination. 
Five (5) SilverAluminum Panels 30" W x 48" H
Carry Bag for all items
5 White Spandex Scrims
5 Black Spandex Scrims
Carry Bag for Scrims
---
---