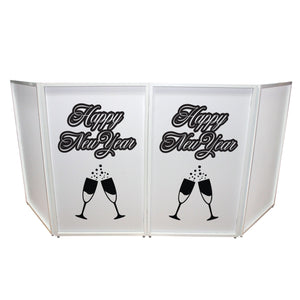 This ProX XF-SNYTOAST Toast Specialty Set of Two Scrim Covers are designed to fit the aluminum ProX facades with 30" x 48" panels. The design cover scrim gives your facade a unique design, smooth and finished appearance. Depending on your occasion you can add lighting inside to instantly create stunning visual effects. The stretchable Lycra fabric consists of 90% Polyester & 10% Spandex. Allowing it to conform to all your edges fitting like a glove on your Facade Table, while giving your setups a sleek and professional look. 
WARNING! These scrim products are for temporary use ONLY and NOT for permanent installation. Keep away from open flames, sparks, direct heat or any type of electrical fixtures and outlets. ProX Live Performance Gear is not responsible for any bodily injury or property damaged caused by misuse of this product. Scrims can be machine washed and air-dried only. Do not use harsh chemicals or chlorine bleach. Factory fire retardant loses effectiveness with washing and over time. Re-treat as needed.
Facade Frames NOT Included.
---
The Lycra fabric also allows for easy installation.  Facade Cover Scrims are very versatile and best used for Weddings.  When you are finished using your Decorative Scrims or regular ones,  throw them into the washing machine to get it back to pristine condition, wash in cold water without bleach and air dry and because of the spandex material, it'll always be wrinkle-free.
---
ProX Facades
XF-4X3048B MK2
XF-4X3048W MK2
XF-4X3048B
XF-5X3048W
XF-5X3048B
XF-5X3048S
---