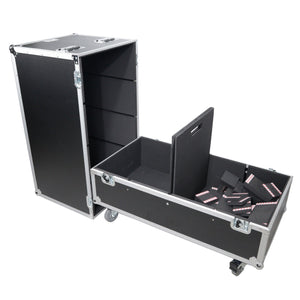 The ProX XS-2X282020W is the perfect case for AV production companies, touring bands, entertainment groups, and mobile DJs. This case rests on four 4" casters designed for easy traveling, it also comes equipped with caster dishes on top to facilitate stacking with other flight cases. This case stores up to two stacked JBL SRX 815P Speakers.
This professional speaker case employs a 3/8" Laminated Honeycomb Plywood that has a hard shell with internal impact-resistant padding to provide the best protection for your investment. No matter where you take your speakers you can have peace of mind, nothing will get damaged during transit or in storage. Protect your investment with ProX Cases.
All ProX cases during the manufacturing process use CNC technology to assure all cases are consistently built with strict specifications that are required for the high-quality standards that ProX cases is known for since 1984.
Case Specs: 
Exterior: 42.5" x 22" x 4" x 31.5"
Interior: 40" x 20" x 28"
---
ATA Style Flight Road Case
Gig-Ready 3/8" Certified Plywood
Black Laminated Honeycomb Finish
Recessed Handles & Latches
Heavy Duty Steel Ball Corners
Inside Lined W/Durable Hard Rubber
4" Durable Casters
---
2 x JBL SRX 815P
6 x D-A-S EVENT-26A
1x Supro 1968RK Keeley Custom 12 
---