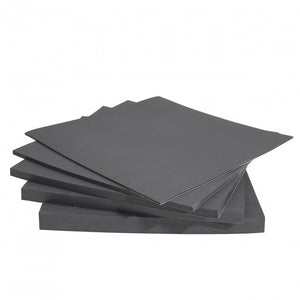 This ProX XS-DF5-20X20 is a single piece of our OEM hard, high-density, small diamond finish, foam as used in the ProX production of road/flight cases.   It is designed to be used on the bottom and sides of cases to provide a durable, highly protective barrier to insulate contents from shocks and bumps. 
This replacement/additional foam is available in 5 mm -13/64" thickness XS-DF5-20X20, 10 mm-25/64" thickness XS-DF10-20X20, 20-mm/1 9/64" thickness XS-DF20-20X20, 30 mm-1 3/16" thickness XS-DF30-20X20  and 40mm-1 37/64 In. XS-DF40-20X20  
Images may show multiple thicknesses for comparison purposes only.  Each part number is for 1 pc. of the appropriate thickness of the foam.
---
*High-density foam for interior support & casing
Measures 20" x 20" x 5 mm -13/64" thickness
Peel and Stick Adhesive Backing (Not Repositionable)
The surface has a small diamond pattern
*ProX Goes Green: These durable hard rubber foams contain 70% recycled content. Of that 70%, 80% of it comes from recycled plastic bottles and the remaining 20% from recycled post-industrial material. At ProX we are striving to make the world a better place!
---
Road/Flight Cases and Utility Cases
---