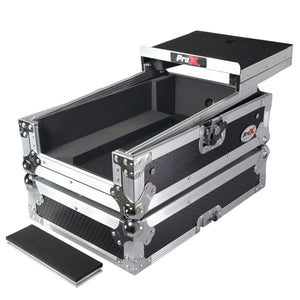 ProX XS-DJMS7LT ATA Flight Style Road Case for Pioneer DJM-S7 DJ Mixer with Laptop Shelf. This case is designed to offer your DJ Mixer the highest level of protection, making it an essential accessory for those who are passionate about their gear and want to always keep it safe. Crafted with the highest quality materials and superior workmanship, this hard case is built to last and perform at the highest level every time.
The Build
All ProX cases are created utilizing CNC technology to assure that consistency is built within strict specifications and tolerances. ProX Cases have been a family-owned business since 1984. And we strive to make the best product made to last a lifetime.
Gig Ready™ Series
ProX Gig-Ready™ Series cases are constructed from rugged 3/8" Plywood, reinforced with steel ball corners, spring-loaded recessed padded handles, and twist-locking latches. There is additional space for cables and small accessories at the rear underneath the controller for convenience. The removable front panel allows for easy access to the DJ controller's front control knobs, headphones, mic jacks, etc. 

Everyday Protection
Most of our cases include our Signature Honeycomb Digital™ Surface Protected lamination. Made to look super-sleek with hexagon grids on all sides of the case in a variety of color options. This helps prevent minor to mild scratches during its lifetime.

Environment Safety
We strive to make a cleaner world by minimizing damage to the environment, so we switched the production of our high-density rubber foam inserts. Our rubber and foam padding contains 70% recycled materials, of that recycled content, most comes from recycled plastic bottles you throw out every day, and the remaining is from recycled post-industrial material.
For the safety of your equipment, do not attempt to transport any gear stored on the sliding shelf
and be aware that the shelf can be removed when slid out to its furthest point.
Note: Any pictured device is shown for reference only and not included!
---
Equipped with a Removable Sliding Laptop Shelf, Cable Access Hole
High-density Interior Foam Support & Casing
Signature Series Honeycomb Digital™ Laminated 3/8" Plywood
ProX Branded Spring Action Recessed Handles
Four Industrial Grade Rubber Feet
Easy Locking Fit Aluminum Tongue and Groove
Heavy and Powerful Steel Ball Corners
Dual Anchor Rivets
Recessed Butterfly Twist-Lock Latches (Padlock Ready)
ProX Live Performance Gear® Limited Lifetime Warranty*
---
For Pioneer DJM-S7 DJ Mixer
---