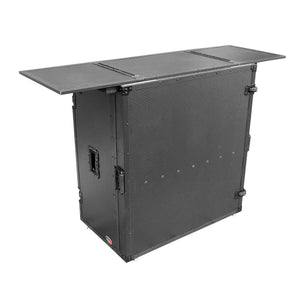 The ProX Transformer Series XS-DJSTNBL fold away DJ performance Desk is exactly what you need for your DJ or Studio Setup. If you are looking for a mobile DJ Workstation that's is easy to transport and will make your setup look amazing, this is for you. It's easily assembled, quick to collapse and folds flat for amazing portability. It's durable enough to place your mixers, CDJ's, keyboard or any type of pro audio or lighting equipment on the go. Additionally, it has a utility shelf under the table that can be used for backup controllers or laptops, extra cables, etc. The ProX DJ table is constructed with our signature Sleek  Honeycomb Digital plywood design finished in a black laminate, and aluminum accents with a black powder-coated finish it's sure to make a good impression at your event. This unit is also equipped with wheels that ease your transportation experience. 
This ProX ATA 300 Style Road/Flight case is manufactured with the Honeycomb Digital™ laminated surface Design. Made with the super-sleek look of Honeycomb Digital™ hexagon grids on all shell surfaces, which gives the cases an almost alien look! Also as opposed to regular laminated plywood cases from other manufacturers, the ProX Honeycomb Digital™ design helps prevent minor to mild scratches. The Honeycomb Digital™ line design was inspired in 2009 by the design of New York City Street Manhole covers which are made to handle rough and tough everyday punishment.
All ProX cases use CNC technology, during the manufacturing process, to assure that cases are consistently built with strict specifications and tolerances that are required for the high-quality standards that ProX cases have been known for since 1984.
---
ProX has been manufacturing quality flight/road case products since 1984 and all are designed to protect your investment!
Black on Black Series, Black trim on Black Honeycomb Digital™  exterior design
Signature Series Certified Laminated Gig ready 3/8" plywood
Heavy Duty Handles
Dual Anchor Rivets
 
* ProX Goes Green: The durable hard rubber foams used in our cases contain 70% recycled content. Of that 70%, 80% of it comes from recycled plastic bottles and the remaining 20% from recycled post-industrial material. At ProX we strive to make the world a better place!
---
---