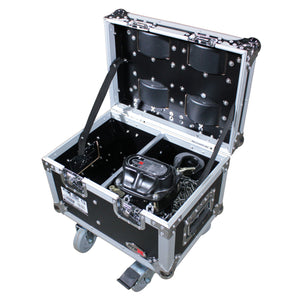 The ProX XS-MCHX2W Utility Chain Hoist Case W/4" Casters is a dependable, durable ATA-300 style flight case with a heavy duty design that is sure to stand up to the rigors of travel and the wear and tear of being on the road all while keeping your gear secure and safe.  Additionally, it can be used for storage of other heavy materials like truss connectors, chains, tools, and more.   ProX Design Copyright © 2018

The ProX XS-MCHX2W is constructed with Gig Ready signature series certified 3/8 inch black laminated plywood, which provides a unique look and is crafted using the highest quality materials and workmanship, to give you the ultimate security for your equipment. If you have a passion for your gear and want to keep it safe, this case will ensure your investment is protected at all times.

The extrusion is all aluminum & assembled with certified aluminum rivets.  The rivets on the 8 recessed spring-loaded handles are backed with washers to ensure strength and durability.  Also, The ProX XS-MCHX2W inside is fully lined 1/4 inch with impact-resistant foam pads to ensure extra security and gives you peace of mind when your equipment is being transported, knowing that your gear will arrive in one piece.  The top is held closed with 3 recessed butterfly latches and is hinged on the back with two lid stops and nylon straps for stops inside the case.  The four low profile casters (2 locking) allow the case to move easily.   
---
ProX has been manufacturing flight cases since 1984 and are designed to protect your investment
Standard Style, Silver trim on Black Laminated exterior design
ATA-300 Style Gig Ready Flight Road Case
Signature Series Certified Laminated Gig ready 3/8" plywood
*High-density foam interior support & casing
Recessed spring action recessed handles
Industrial Heavy duty and powerful steel ball corners
4x Low Profile Durable Tough Rubber Casters 2 Locking
Caster Cups on Top for Stacking Cases
Dual anchor rivets
Easy locking fit aluminum tongue and groove
Industrial Recessed butterfly twist-lock latches
Industrial Grade Rubber Feet
All Foam padding made from 85% recycled materials
ProX Limited Lifetime Warranty
*ProX Goes Green: The durable hard rubber foams used in our cases contains 70% recycled content. Of that recycled content, 80% of it comes from recycled plastic bottles and the remaining 20% from recycled post-industrial material. At ProX we strive to make the world a better place!
---
Universal Storage
---