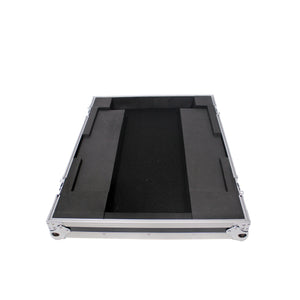 ProX XS-MIDM32R ATA-300 Flight Style Road Case for Midas 32R with rubber feet. Our custom-designed ATA-style road case is tailored specifically for your Live Mixer Console in the audio console industry. It offers the highest level of protection and convenience for your valuable equipment.
Its robust construction features the utilization of rugged and enduring Signature Series Plywood, fortified with reinforced steel ball corners. Additionally, the case incorporates 4" durable rubber wheels, facilitating effortless mobility. With its intelligently engineered low front panel, the unit allows easy access to inputs, further enhancing user experience.
Crafted with precision and using top-quality materials, this road case ensures ultimate security during transportation. Equipped with a low front panel for easy access to inputs, and four durable rubber 4" casters (two of which can lock), this road case combines functionality and durability.
---
ATA-300 Flight Style Road Case
High-density foam interior support & casing
Spring action recessed handles
Recessed spring action Handles per Side
Heavy and powerful steel ball corners
Dual anchor rivets
Premium Series 3/8" Plywood
Industrial Recessed butterfly twist lock latches that can be padlocked
ProX Limited Lifetime Warranty
* All Foam padding made from 85% recycled materials
---
Midas M32R Audio Mixing Console
---