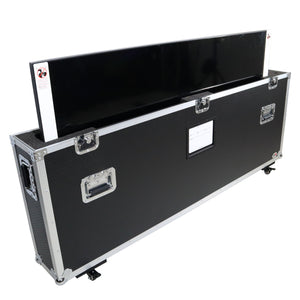 The ProX XS-TV7080W Fits 1 LED TV -  70"-80" Adjustable Case with Low profile wheels. If you have a passion for your gear and want to keep it safe at all times, this case will perform at the highest level every time. XS-TV7080W is constructed with our rugged Signature 3/8" Gig-Ready Series Plywood, durable rubber wheels, reinforced steel ball corners, as well as recessed steel padded handles and latches.
What size does it fit exactly? This case supports multiple sized TV's up to 80" Models.
Width: 48" to 62: Height: 28" to 36"
ProX ATA 300 Cases are manufactured with the Honeycomb Digital™ Protective Finish on Laminated  3/8" plywood.  Made with the super-sleek look of Honeycomb Digital™ hexagon grids on all shell surfaces, sets ProX apart from other manufacturers.  The Honeycomb Digital™ design helps prevent minor to mild scratches. All ProX cases use CNC technology, during the manufacturing process, to assure that cases are consistently built with strict specifications and tolerances that are required for the high-quality standards that ProX cases have been known for since 1984. Note: Any pictured device is shown for reference only and not included!
---
Standard Style, Silver on Black Honeycomb Digital™ Protective Finish
ATA-300 Style Gig Ready Flight Road Case
Easy locking fit and tongue
High-density foam interior support & casing
Recessed spring action Handles per Side
Heavy and powerful steel ball corners
Dual anchor rivets
Signature Series Certified Laminated Gig ready 3/8" plywood
Industrial Recessed butterfly twist lock latches that can be padlocked
Comes with 2 Heavy Duty 2" low profile Durable Rubber Caster Wheels for Mobility
ProX Limited Lifetime Warranty
---
Fits 70" - 80" Flatscreen TV Monitor
---