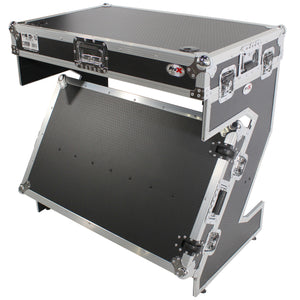 The ProX XS-ZTABLE JR DJ Z-Table® workstation is the junior version of our DJ Z-Table® Ultimate Workstation and is easy to set up, quick to collapse, and amazingly portable!  The smaller size is perfect for DJs that use mid to small-sized controllers or just a computer.   This workstation will provide a more compact event footprint.  The table measures 35.5" x 22.5" featuring plenty of room for your equipment and is the perfect height of 36 Inches keeping all of your gear within immediate reach. It can handle up to 200 lbs evenly distributed. The low profile wheels, which are built to last, makes transporting your DJ Z-Table® Junior effortless. It's manufactured from all of the best, industrial-strength, quality materials you expect from ProX Cases.  When it's time to hit the road, the Z legs go inside the case giving you compact and easily transportable dimensions of 35.5 x 22.5 x 9 inches and only 51 pounds.  You can even personalize your workstation by adding graphics to the front panel!
This ProX ATA 300 Case is manufactured with the Honeycomb Digital™ Protective Finish on Gig Ready™ Laminated  3/8" plywood.  Made with the super-sleek look of Honeycomb Digital™ hexagon grids on all shell surfaces, sets ProX apart from other manufacturers.  The Honeycomb Digital™ protective design helps prevent minor to mild scratches. This unique design was inspired in 2009 by the design of New York City Street Manhole covers which are made to handle rough and tough everyday punishment.
All ProX cases use CNC technology, during the manufacturing process, to assure that cases are consistently built with strict specifications and tolerances that are required for the high-quality standards that ProX cases have been known for since 1984.
Note: Any pictured device is shown for reference only and not included!
---
ProX has been manufacturing quality flight cases since 1984 and all are designed to protect your investment!
ATA-300 Style Flight/Road Case Construction
Easy Locking Fit Aluminum Tongue and Groove
ProX Branded Spring Action Recessed Handles
ProX Heavy and Powerful Steel Ball Corners & Dual Anchor Rivets
ProX Branded Industrial Recessed Butterfly Twist-Lock Latches - Padlock Ready
2 - Low Profile Durable Tough Rubber Wheels
Signature Series Honeycomb Digital™ Design on Laminated 3/8" Plywood
ProX Branded Industrial Recessed Butterfly Twist-lock Latches - Padlock Ready
The tabletop is 35.5" Wide x 22.5" Deep and 36" Above Floor
Utility Shelf for Storage
Adjustable Feet for Secure Leveling
* ProX Goes Green: The durable hard rubber foams used in our cases contain 70% recycled content. Of that 70%, 80% of it comes from recycled plastic bottles and the remaining 20% from recycled post-industrial material. At ProX we strive to make the world a better place!
---
---