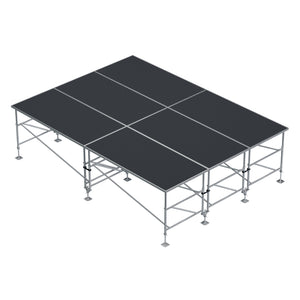 ProX XSQ-12X16PKG-48Z 12FT x 16FT Stage Q 6 Stage Platforms 4FT x 8FT Height Adjustable 28-48 inch with Z Frame Stabilizing System​. Introducing the ProX XSQ-4X8 MK3 StageQ, a single-stage unit measuring 4 feet by 8 feet, designed for convenient and portable staging solutions. Built to last with high durability, this stage unit is designed to minimize setup times and can be easily transported and set up in just minutes.
Featuring six height-adjustable telescoping legs, this stage unit can be raised from 28 inches to 48 inches while maintaining stability. The stage top is laminated with our Signature Honeycomb Digital™ Surface Protection, which has a hexagonal pattern for enhanced grip and traction, making it suitable for both indoor and outdoor applications.
This stage unit has a 47.25" x 94.5" modular section with a 7/8" (22 mm) plywood construction, ensuring a high weight capacity of 1100 lbs. per 4' x 4' section. Experience the convenience and durability of the StageQ Platforms for all your staging needs.s
The height of each leg can be adjusted to ensure precision on uneven ground levels, with a locking pin to secure the desired height. StageQ Platforms also come in a variety of different sizes.
Package includes
(6) XSQ-4X8 MK2 StageQ Stage Deck Unit(s)
(0) XSQ-2848 StageQ 28-48" Telescoping Legs
(0) XSQ-CL11 StageQ Stage Security Clamps
(0) XSQ-C05 Lower Deck Security Clamp
(0) XSQ-MX2 2-Leg Clamps
(0) XSQ-MX4 4-Leg Clamps

Each stage has our Signature Honeycomb Digital top laminate which has a rugged hexagonal pattern that creates foot grip and traction. They are meant for outdoor and indoor applications. The included telescoping legs adjust from 28-48" which is set by a locking pin. Each leg has a ball joint above the rubber feet that can be adjusted in height to adjust to precision for the ground level.
Steps, Guard Rails, Leg Clamps, and any additional products shown are not included and are sold separately.
Stage Packages are also available
XSQ-12X8 PKG-48     3-Stage | 8' Ft. x 12' Ft.
XSQ-12X16 PKG-48   6-Stage | 8' Ft. x 16' Ft.
XSQ-12X24 PKG-48   9-Stage | 8' Ft. x 16' Ft.
XSQ-16X24 PKG-48 12-Stage | 8' Ft. x 16' Ft.
Packages with Z-Frame Systems
XSQ-12X16 PKG-48 Z    6-Stage | Z-Frame 12' Ft. x 16' Ft.
XSQ-12X24 PKG-48 Z    9-Stage | Z-Frame 12' Ft. x 24' Ft.
XSQ-16X24 PKG-48 Z 12-Stage | Z-Frame 16' Ft. x 24' Ft.
Specifications
- 47.25" x 94.5" Modular Section
- 7/8" (22 mm) Plywood (Zero Voids)
- Supports 1100 lbs. per 4' x 4'
---
Made from 7/8" thick plywood
Slip-Resistant Laminated Surface
Proprietary Aluminum Side Rails for Accessories
Takes a minimum of two people to carry
Adjustable Leg Height 28" to 48" in.
Locking system provides a monolithic floor (when locked together)
Ball joint socket for leveling with uneven ground
ProX 1-Year Limited Warranty
---
ProX StageQ™ Stage Decks and Accessories
---
Package Contents
XSQ-4X8MK3 (6)   StageQ 4' x 8' Single Stage Unit Includes 6x 28 to 48" Height Adjustable legs and Ground Leveling Feet
XSQ-ZF35 (12)   Z Frame 3-5 Ft Adjustable Support for StageQ MK2 Series Stages
XSQ-ZLA2 (6)   Z Frame 2 Leg Adapter for StageQ MK2 Staging System
XSQ-ZLA4 (2)   Z Frame 4 Leg Adapter for StageQ MK2 Staging System
XSQ-ZFL (12)   
XSQ-ZP200 (12)   Z Frame 2 Meter Pole W-Clamps for StageQ MK2 Series Stages
---