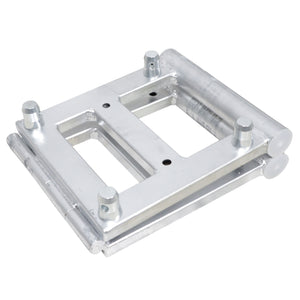 The ProX XT-BH180 Adjustable Plate-Hinge Truss Plate from the most trusted staging support systems in the industry, and is built to the highest standards of safety and performance. It's a rugged yet lightweight trussing solution perfect for mobile DJs, bands, outdoor performances, nightclubs, live mobile productions, or permanent installations. It adjusts from 0° to 180° and fits ProX 12" SQ F34 Conical trussing.  Manufactured from high-grade and lightweight aluminum which is easy for transportation and setup!  This product can provide a universal solution for truss angles. 
The ProX XT-BH180 is the first trussing hinge from ProX that adjusts from 0° to 180° for unique truss construction projects.  There is a built-in adjustable arm to lock the desired angle between sections of truss and Junction Boxes.  The superior construction quality of ProX trussing products guarantees many years of trouble-free use.
At the heart of the system is square truss that utilizes a standard conical connector system, which easily mates with other brands of trussing of the same size and connector style, and is available in a variety of lengths to suit your designs. It also works with different types of corners, base plates, connectors and accessories that add stability while expanding on limitless configurations.
Always know your load weight for your equipment: VERY IMPORTANT - CLICK HERE for Truss Loading Chart.
XT-SQ SERIES DIMENSIONS:
Height: 11.42in / 290mm
Width: 11.42in / 290mm
Weight: 21lb per 3.28 ft / 9,5kg per meter
Main Tube: 2in / 50mm
Wall Thickness:  .08in / 2mm
Braces: .75in / 20mm
Tolerance Free Standard Conical Connector
Main tube wall thickness of .08in
Connecting hardware included - Conical connectors, spigots, cotter pins (8 sets)
ProX Truss products utilize industry standard dimensions to be compatible to connect to/with many other manufacturers trussing.
---
Manufactured in our Own Factory!
Allows angles not possible with standard trussing corners
One Side Conical Couplers Included
Material: 10mm EN-AWT6 6061 Aluminum
TUV Certified Aluminium Welding
 TUV Is a 3rd Party Certification Body and a Nationally Recognized Testing Laboratory (NRTL).  TUV provides inspections, testing, certification & training, with the ultimate objectives of reliability, safety & high quality.
---
XT-SQ Series | F34 Conical Truss
---