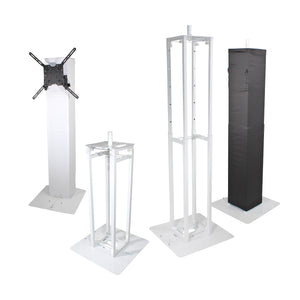 The ProX XT-FLEXTOTEM TV FlexTotem TV™ Package will make your performance setup stand out in a unique way. The innovative Flex Totem is a complete package to create a single mount for a TV Monitor, video displays, DJ lights, speakers and various other display uses.  The top can be used for moving heads, lighting, monitors or speakers while still displaying the TV or use without TV mount.  *Sandbag Required*
This package comes with everything you need to make a podium stand from 3 Ft. To 6 Ft. in 12" increments.  Unlike other adjustable stands that use wing nuts to change the height of the stand, the ProX FlexTotem TV™  is adjusted for height instantly by squeezing our specially designed Ergo™ (Patent Applied For) internal adjusting mechanism, which releases all four locks at once, with one hand while easily moving the top to the height you prefer with the other.  Black and white scrims with zippered openings for the included Universal TV mount are included.   Tidy up the look with the black scrim sleeve or up-light the white scrim sleeve for custom color effects. This package also includes a variant of the ProX exclusive XT-SSTM3260 Universal TV Mount for up to 55" video displays.   Perfect for any disc jockey or production company for stage or display needs. The FlexTotem TV™ stand can be used with or without the TV mount. 
The FlexTotem TV™ is finished with a white powder-coated finish for good looks and durability.  The 24" X 24" base plate folds for convenient transport in the included ProX Sturdy Bag along with the other components. The baseplate has multiple mounting points so that the totem can be centered on the base plate or offset to the back for use with TVs.  The 12" X 12" top plate has a center hole for the included speaker post and mounting slots on 2 edges for mounting moving heads or another lighting.  No tools are required for assembly.  The entire package fits compactly into the included padded transport bag with loaded dimensions of 5.5" Thick, 14.5" tall and 41" long and weighing approximately 50 lbs. 
WARNING! These included scrim products are for temporary use ONLY and NOT for permanent installation. Keep away from open flames, sparks, direct heat or any type of electrical fixtures and outlets. ProX Live Performance Gear is not responsible for any bodily injury or property damaged caused by misuse of this product. Scrims can be machine washed and air-dried only. Do not use harsh chemicals or chlorine bleach. Factory fire retardant loses effectiveness with washing and over time. Re-treat as needed.
FlexTotem TV™ & Ergo™ are Trademarks of Xstatic Pro, Inc. dba ProX Live Performance Gear® 2016-2019 Design Copyright© 2019
---
No tools required for assembly
Use with or without TV Mount
Ergo™ Quick-release Adjusting Mechanism (Design Copyright 2018 - ProX Live Performance Gear®)
Both Top and Base Plate have integrated carry handles
Compact package for transport 5.5" thick, 14.5" tall and 41" long, 50lbs
Package Includes:
(2) Adjustable FlexTotem TV™ Side Sections
Ergo™ Adjusting Mechanism (Patent Applied For)
(1) Universal TV Mount
(1) 12" x 12" Top Plate
(1) Speaker Mount Stud for 12" Top Plate
(1) 24" x 24" Folding White Base Plate
(2) Truss Sleeves in Black and White with storage bag
(1) Soft Bag for Transport

All Assembly Hardware
---
Up to 55" LED TV/MONITOR
---