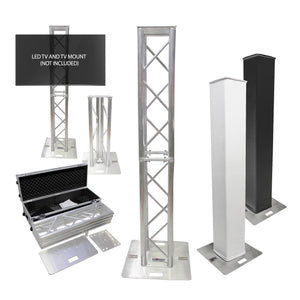 Make your DJ setup rise above the rest with the Flex Tower™ Platform Totem package. The innovative flex tower is a complete package to create a single mount for disc jockey lights, speakers or various other display uses.
This package comes with everything you need to make a single 2 meter (6.56 ft) platform or a 1 meter (3.2 ft) tower.  Tidy up the look with the black scrim sleeve or up-light the white scrim sleeve for a custom color effect.
Use the XT-SSTM3260 Universal TV Mount for video displays.   Perfect for any disc jockey or production company for stage or display need.
Package includes a ProX Hard Road Case for transport. 
WARNING! These scrim products are for temporary use ONLY and NOT for permanent installation. Keep away from open flames, sparks, direct heat or any type of electrical fixtures and outlets. ProX Live Performance Gear is not responsible for any bodily injury or property damaged caused by misuse of this product. Scrims can be machine washed and air-dried only. Do not use harsh chemicals or chlorine bleach. Factory fire retardant loses effectiveness with washing and over time. Re-treat as needed.
Flex Tower™ and Flex Totem™ are Trademarks of Xstatic Pro, Inc. dba ProX Live Performance Gear TM 2016-2019
---
Package Includes:
(4) 12" 1M 3.28ft I Beam Truss
(1) 12" x 12" Top Plate
(1) Speaker Mount Stud for 12" Top Plate
(1) 24" x 24" Folding Base Plate
All Assembly Hardware
(2) Truss Sleeves in Black and White
(1) Hard Road Case for transport
---
---