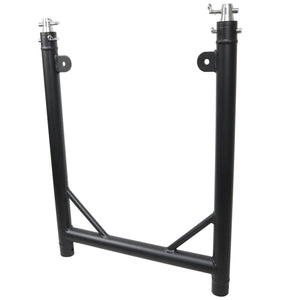 The ProX XT-GRU3024 BLK Rapid Grid™ modular design allows endless configurations for single fixtures, double hanging or ladders of multiple fixtures, which can also be expanded to create a wall of hanging positions.  Each U module has two safety point attachments, one on each side for use with multiple styles of fixtures.   The ProX GRU Rapid Grid™ System has been designed for quick deployment and take down in any environment.  The lightweight yet strong aluminum construction is additionally reinforced to provide added stability and safety.
Easily expand the configurations of the GRU Rapid Grid™ System by utilizing the standard ProX Truss selection of single tube 2″ pipes, T sections, spigots, or corner adapters.   These products all will fit into the GRU system which allows you to create hanging structures in an unlimited amount of designs for lighting utility.
ProX Truss products utilize industry standard dimensions to be compatible to connect to/with many other manufacturers trussing products with conical connectors.
 TUV is a 3rd Party Certification Body and a Nationally Recognized Testing Laboratory (NRTL).  TUV provides inspections, testing, certification & training, with the ultimate objectives of reliability, safety & high quality.
---
Download the ProX Truss/Rigging Safety Guide
Single Grid Dimensions: 23.6" x 29.6" x 2" Tube O.D.
Load Capacity up to 110 lbs. Per Segment
Manufactured in our Own Factory!
Material: EN-AWT6 6082 Aluminum
0.08" (2mm) Wall Thickness
TUV Certified Aluminium Welding
Includes Connecting Hardware
---
ProX Rapid U-Grid Modular System
---