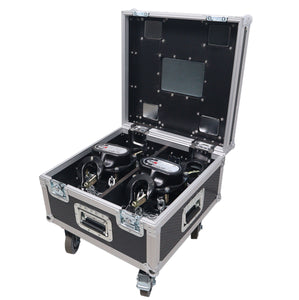 ProX XT-MCH-TWO-X2-30FT Set of Two 2-Ton 30' Ft. Manual Chain Hoist with ATA Flight Style Road Case. Introducing our Set of 2 Manual Chain Hoist, the perfect solution for all your stage production needs. These hoists are designed to help you lift and move heavy objects with ease, without the need for electricity.
Each chain hoist is rated for a 2-ton capacity load bearing, making them ideal for even the heaviest of loads. The manual operation of these hoists means that you can use them anywhere, at any time, without the need for a power source. This makes them perfect for use in outdoor venues, on mobile stages or in areas where electricity is not readily available.
Included with each Chain Hoist is a convenient chain bag, providing you with a safe and secure place to store your chains when not in use. This helps to protect your equipment from damage and keeps them organized for quick and easy access when needed. To make transportation even more convenient, we've also included a Heavy-duty flight style road case that can hold both hoists. This makes it easy to move them around from venue to venue, ensuring that you always have the right equipment for the job.
These Manual Chain Hoists are the perfect addition to any stage production, providing you with the power and flexibility you need to create a truly spectacular show. Whether you're working with a large truss system, moving heavy equipment or setting up a mobile stage, these hoists are up to the task. 
---
• Includes Two Manual Chain Hoists
• 2 Ton Max Weight (Per Chain Hoist)
• Includes Flight Style Road Case
• Great for Line Array Systems
• Can be used for General Purposes
---
Line Array Systems, Heavy-duty Trussing, and More. 
---