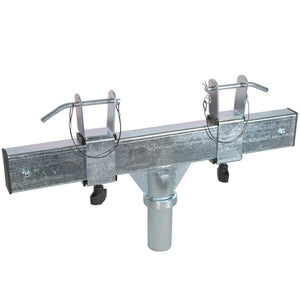 ProX XT-TADAPTER-500 T-Adapter Support Bar for XT-CRANK18FT-500 Stand System fits Stands 2 in. Diameter.
The ProX XT-TADAPTER-500 Truss Heavy Duty Crank Adapters is essential to any professional lighting setup. Specifically engineered to meet the demands of small to medium-sized live bands and mobile DJ applications, these adapters seamlessly integrate into the Truss System to enable the secure and temporary mounting of lights.
Crafted with uncompromising attention to detail, the ProX XT-TADAPTER-500 boasts a robust construction featuring a combination of steel and aluminum materials. This sturdy design ensures exceptional durability, capable of withstanding frequent use and transportation rigors.
Each adapter is meticulously manufactured with All-Metal components, providing a solid foundation for supporting and positioning lighting fixtures. The diameter of the mounting pole is 2-inch | 50mm The result is a reliable solution that guarantees stability and peace of mind during performances, ensuring lights remain securely in place.
Whether you're organizing a live band concert, setting up a mobile DJ booth, or engaging in other dynamic events, these adapters offer a dependable and efficient solution for precisely positioning lights, enabling you to create captivating visual experiences. Elevate your lighting setup to new heights of professionalism with the ProX XT-TADAPTER-500 Truss Heavy-Duty Crank Adapters.
---
Robust steel and aluminum construction
Compatible with various truss configurations
Heavy Duty All-Metal components for reliability
2-inch | 50mm Diameter Mounting Pole
Versatile application for different events
---
Fits XT-CRANK18FT-500 Crank Stand System
---