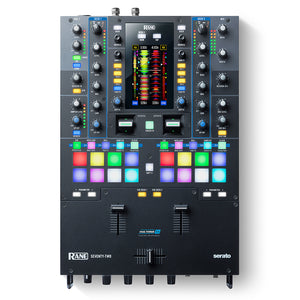 The RANE DJ Seventy-Two is a 2-channel, advanced control and performance mixer designed to harness the creative power of Serato DJ Pro software. Redefining the professional club and scratch DJ/turntablist experience, the mixer offers advanced features including a full-color touchscreen interface, Flex FX, stackable Serato FX, and eight Akai Pro MPC multi-function trigger pads per deck.
Two DJ's can perform simultaneously via the unit's dual-USB connections. Turntablists can cut, flare, chirp, crab, orbit, and transform, with the new, tactile and precision based Mag Three faders, then flip between expressive control functions via the 16 MPC-style pads with RGB backlight and multi-performance mode selections. With the latest Serato DJ Pro software, the Seventy-Two's 4.3" color touchscreen interface provides visual feedback of moving waveforms, while enabling navigation, track selection, and extensive performance preference adjustments.
Additionally, the unit offers full FX control and sonic manipulation utilizing and stacking the Seventy-Two's dual Flex FX engines with Serato DJ Pro's extensive and expressive effects banks. The solid steel construction provides strength and durability for the most demanding environments and will stand up to the rigors of on-the-road wear and tear. The RANE DJ Seventy-Two ships with a power cord, two Serato NoiseMap control vinyl records, two Serato NoiseMap control CDs, two USB cables, a Serato Pitch 'n Time download card, and a set of Rane stickers.
Solid steel construction; built like a tank for non-stop, heavy-duty use
3 x Mag contactless tension-adjustable faders for crossfader and channel faders with reverse, contour controls, and cut-in adjustment
Touchscreen (4.3") for moving-wave display, X/Y FX control, song selection and user customizations
Dual FLEX FX engines, one for each channel
Stacked Serato FX with internal post-fader FLEX FX
Dual die-cast aluminum FX paddles with 180-degree rotation
Chain-integrated Serato software effect control plus one internal FLEX effect per channel
11 Flex FX effects – also XY controllable (Echo, Hold Echo, Duck Echo, Reverb, Filter, Phaser, Auto Gate, Flanger, Delay, Ping Pong Delay, Beat-Breaker)
Four Pad FX (Echo, Brake, Reverse, Gate)
Full control over Single and Gang Serato FX
Mic Echo
Foot Switch control option
14 Pad Modes (Cue, Pitch Play, Auto Loop, Manual Loop, Roll, Pad FX, Sampler, Fader FX, Flip (requires purchase of Serato Flip expansion), Slicer, Transport, Slicer Loop, Flip, 3 Custom Pad Sets)
Dual USB connections for DJ handoffs
Legacy Rane US engineered for professional-quality audio (114 dB SNR USB to analog output)
16 x Akai Pro MPC performance pads with RGB backlight, adjustable threshold, and aftertouch, plus independent mode controls per deck
Assignable USB controller inputs for Rane Twelve motorized battle controller
Full onboard Serato DJ Pro transport/pad control should traditional turntables fail
Unlocks Serato DVS, with Serato's Official Control Vinyl included (also ships with Serato Pitch 'n Time DJ expansion)
In the Box
RANE DJ Seventy-Two 2-Channel Performance Mixer with Touchscreen for Serato DJ Pro
Power Cord
2 x Serato NoiseMap Control Vinyl Records
2 x Serato NoiseMap Control CDs
Serato Pitch 'n Time Download Card
2 x USB Cables
Set of Rane Stickers
Display
Full-color display with capacitive multi-touch
Pads
16 x velocity-sensitive multicolor backlit pads (8 per deck, 10 modes each)
Faders
3 x MAG THREE tension-adjustable faders (2 channel/line faders, 1 crossfader)
Outputs
Main: 2 x XLR
Booth: 2 x 1/4" / 6.35 mm TRS
Session: 1 x RCA stereo pair
Headphone: 1 x 1/4" / 6.35 mm TRS
Headphone: 1 x 1/8" / 3.5 mm TRS
 
Inputs
Deck 1 & 2: 4 x RCA stereo pairs
Mic 1 & 2: 2 x Combo XLR-1/4" / 6.35 mm TRS
Session: 1 x RCA stereo pair
Footswitch: 1 x 1/4" / 6.35 mm TRS
Gain
Analog Gain (Mic): 30 dB
Analog Gain (Line): 4.75 dB
Gain Trim (Mic): Off to +20 dB (unity at center)
Phono Gain: 30 dB (at 1 kHz)
Maximum Input
Mic: 0.126 Vrms
Line: 2.3 Vrms
Aux 1 & 2: 4 Vrms
CD (Line): 4 Vrms
Phono: 126 mV
Session Input: 4 Vrms
Phono Inputs
Phono: RIAA
RIAA Curve: +0.1 / -0.2 dB
Frequency Response
20 Hz to 20 kHz (±0.2 dB)
Maximum Output
Main: (XLR): 8 Vrms
Booth (1/4"): 8 Vrms
Session (RCA): 4 Vrms
Headphones (1/4" & 1/8"): 4 V (no load)
THD + N
THD+N
Main (at 1 kHz, 4 Vrms): 0.002%
Booth (at 1 kHz, 4 Vrms): 0.002%
Session (at 1 kHz, 2 Vrms): 0.002%
Headphones (at 1 kHz, 2 Vrms): 0.003%
Headphone Output
Output Power: 96 mW (50 Ohms)
Control: On/off muting
Connections
2 x USB Type-A ports (Deck 1-2 USB controllers)
2 x USB Type-B ports
1 x IEC power cable input
Converters
AKM High Definition Audio: 24-bit PCM, 48 kHz
DSP
32-bit, floating point, double precision
Dynamic Range
Dynamic Range (A-weighted, unity gain)
ADC: 114 dB
DAC: 114 dB
CD Input to Analog Output: 111 dB
CD Input to USB Output: 114 dB
USB Input to Analog Output: 114 dB
Aux Input 1 & 2: 114 dB
Session Input (@ 1 kHz): 114 dB
Power
Voltage: 100 to 240 VAC, 50/60 Hz
Consumption: 30 W
Dimensions (W x D x H)
Mixer: 11.2 x 17.5 x 4.25" / 28.4 x 44.5 x 10.8 cm
Display: 2.1 x 3.7" / 54 x 95 mm (W x D), 4.3" / 109 mm (diagonal)
Weight
12.0 lb / 5.5 kg